They've sent shivers up our spines, made our hearts pound, and left us mortified for days. Check out our countdown of the five scariest bosses we've come face to face with in a video game.
Berserker (Gears of War)
She doesn't pose much of a challenge any of the times you encounter her in Gears but I won't deny my heart was pounding the first time I was face to face with her. Though she's blind her advantages are nearly impenetrable skin as well heightened senses.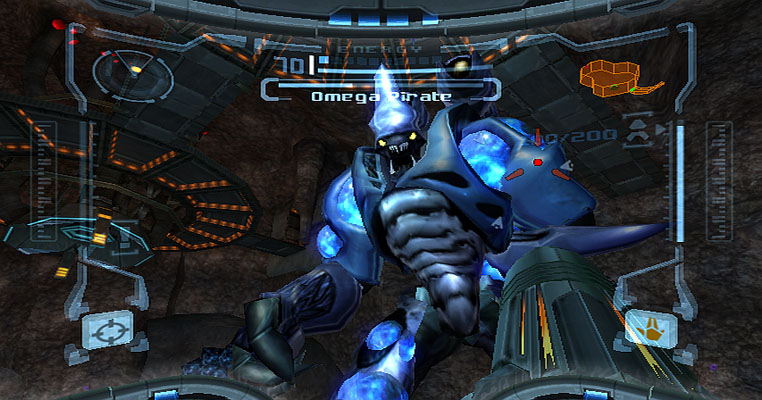 Omega Pirate (Metroid Prime)
This isn't nearly the scariest thing in Metroid Prime but as far as bosses goes the Omega Pirate is the biggest and the baddest. Though I was a lot younger the first time I played it, the game was just plain creepy so I'm sure it wouldn't have mattered how old I was. I don't recall the battle itself perfectly but I remember the music was awesome!
Verdugo (Resident Evil 4)
Of all the terrifying and macabre bosses in RE4 nothing was scarier than Verdugo. It wasn't Verdugo himself that scared me (though he was a creepy fuck) it was the fact that this battle took place right after another battle where you're locked in a room with tons of enemies. So by this point I had next to no ammo to fight him. After countless deaths, and hocking a majority of my weapons to the Merchant I was able to take the bastard down.
Dead Hand (The Legend of Zelda: Ocarina of Time)
There weren't very many scary moments in Ocarina of Time. But the Shadow Temple and this boss right here make up for the lack of them. I was around five years old when I fought Dead Hand and it was probably the scariest thing I had done at this point in my life. I was scared to get close to him lest he attack me and I was scared to run away just in case one of his hands grab me.
Nemesis (Resident Evil 3)
The first time I ever played a Resident Evil game was shortly after beating Ocarina of Time and finding it on top of the stack of PlayStation games. So I popped it in, clicked load game and before I knew it I was standing in front of a typewriter on my brother's save file. I don't recall how far in the game he was but he was in a small room. I exited through the closest door and was immediately confronted by Nemesis.
My heart drops, his rocket launches, and the game is over. It was terrifying and that short encounter resulted in many nightmares the following month. I haven't played the game since though I do plan on trying it when it hits the PlayStation Store. That my friends, was the single scariest video-game boss I have ever come face to rocket with.
Well that was my list, whether you agree or not we'd love to hear your opinion so go ahead and post your own in the comments section below.